During February, Chinese new year is always celebrated throughout the UK and the culture is celebrated throughout Manchester. So, to celebrate Chinese new year we have created a list of our favourite Asian cuisines throughout Manchester.
Sunset by Australasia
Located in the heart of Spinning Fields, Sunset by Australasia provides the most stunning Asian food in a vast, luxurious environment. Upon entering the restaurant, the first pretty sight you see is the interior decorating around the place, which makes you feel instantly a part of the Asian culture in a more modern fashion.
The staff are all extremely polite and assist you with whatever you need – their service is second to none! There is a huge variety of food you can choose from which is ideal if you have an ambitious palette. Be sure to listen to the recommendations they give because you will discover unknown foods with unbelievable flavour that blows your mouth away instantly. All of the food on the menu has the right balance of spices – it is perfection at it's finest!
With Sunset by Australia situated in Spinning fields, their prices can be fairly high. However, despite paying a lot more than you would plan to, you definitely get your money's worth. Which encourages you to keep coming back for more and trying a new variety of food. If you plan on going on a date, then this is the perfect place to take your partner, it's stunning, subtle and very romantic.
Grand Pacific
Based in Spring Gardens, this grand restaurant catches your attention instantly with it's stunning decor and the friendly staff always make sure you're being looked after. The selection of food they have on the menu is exquisite and we recommend you try as much as possible – you will not be disappointed!
The Grand Pacific serves a stunning selection of Pan-Asian dishes, from tempura szechuan seabass to lamb massaman curry plus many more. You really are spoilt for choice! The prices on the menu are very reasonable too so you will not be spending a huge amount of money, this is the ideal restaurant if you're looking to budget.
This restaurant has become so popular that there are huge plans to create a much larger version of the Grand Pacific, but in Spinning Fields. Their idea is to completely transform the venue so it will be able to seat 100 people in the restaurant, which will then be supported by a large, glamorous bar and finally a separate private dining area.
These initial ideas of renovation are huge and it's guaranteed to be a huge hit! However, this will only increase the popularity of the Grand Pacific further, so keep an eye-out on when reservations will be available. As it will be incredibly difficult to book a table when the new venue makes a grand opening.
Tattu
Stylish and stunning, Tattu is one of the most unique and exquisite restaurants in Manchester. With the restaurant being based in Spinning Fields – instantly it has a wow factor with it's modern decor which draws you in immediately. That's not all though, inside the place is covered in Asian artwork which feels like you're taking a journey through Asia, adding extra value to your experience.
As soon as you walk in the dining area, you can tell instantly that it's been designed to by the best artists. Every section of the restaurant has been designed perfectly so the customers will have the best dining experience they've ever had. The dishes on the menu are visually beautiful and they taste fabulous too, you definitely get your money's worth!
Furthermore, the bar and restaurant have three areas each designed differently, making the customer experience even more special. If you're looking to book a private event here then you can do that too, there is a lavish hidden room that can hold upto 60 people – giving you the ultimate private dining and drinking experience.
The prices for some items on the menu might be pricey, but the quality of food and customer service is second to none. This restaurant is perfect to celebrate a special occasion with your friends, family and partner.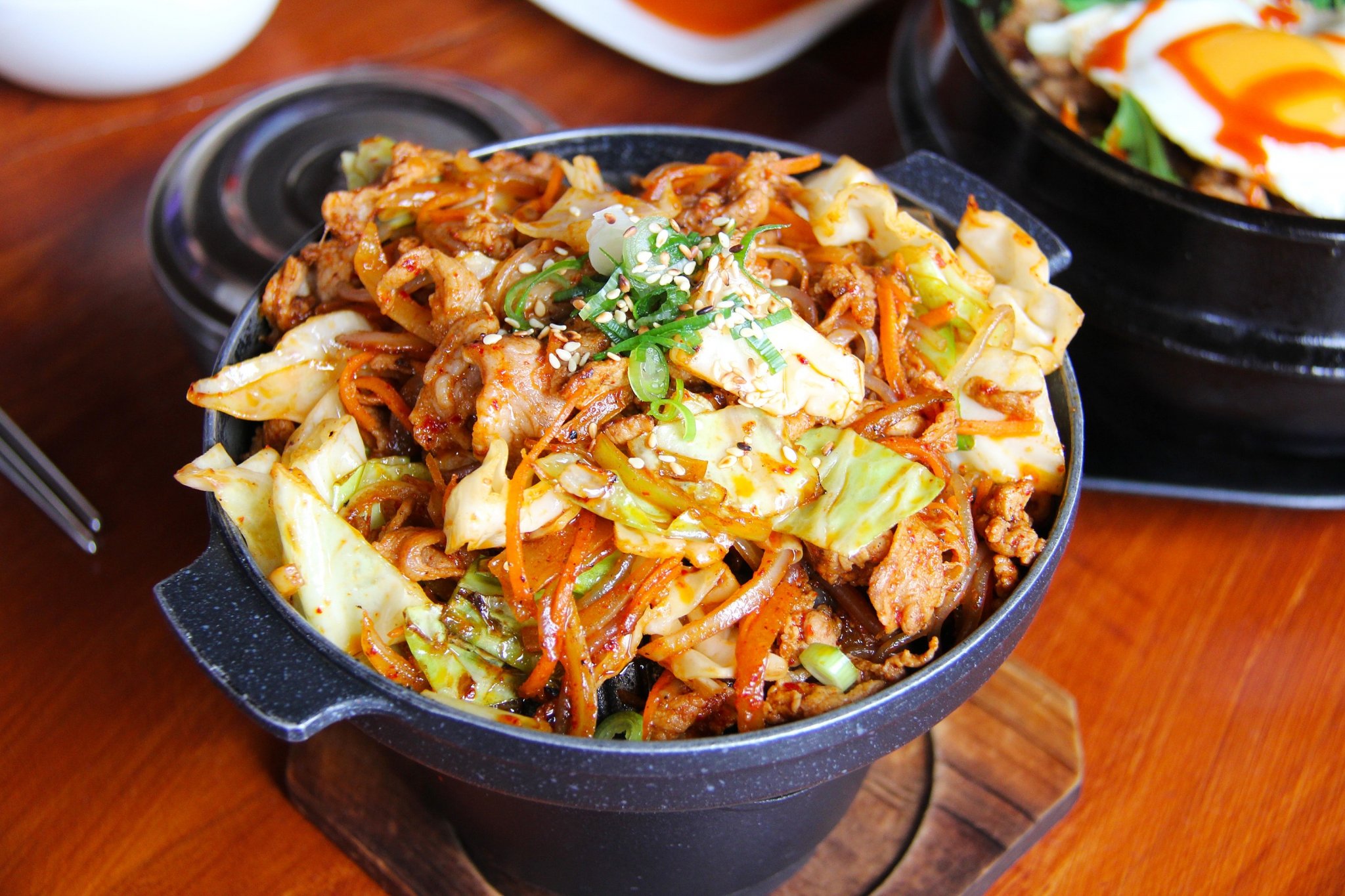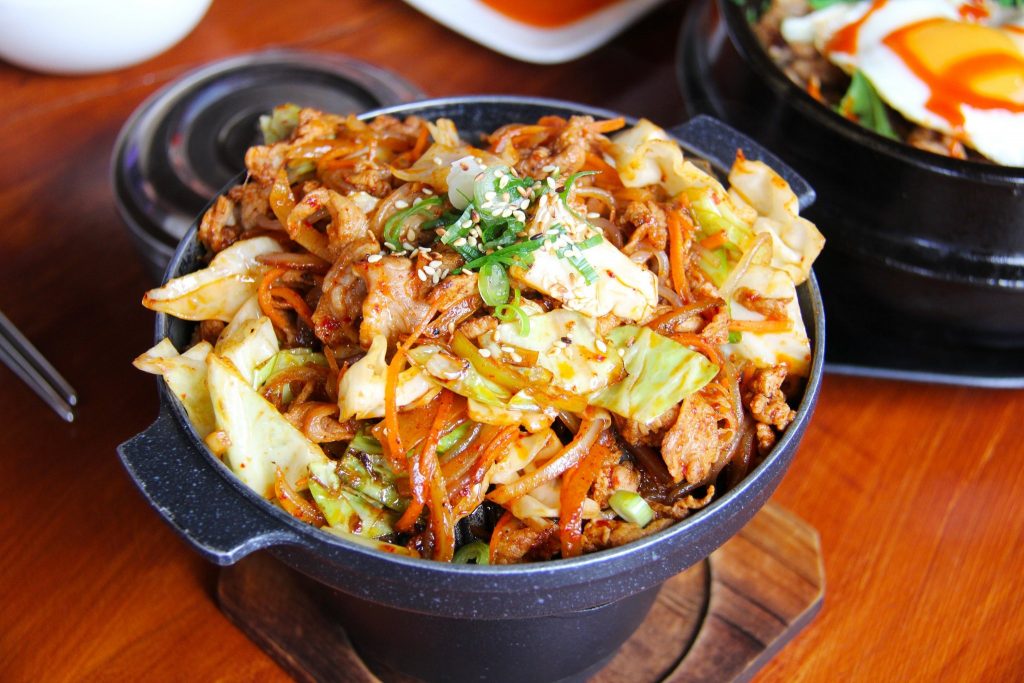 Cottonopolis food & liquor
Ideal for a romantic date, the Cottonopolis Food & Liquor has everything you desire from a restaurant. Based in the Northern Quarter, this stylish restaurant is filled with delicious Asian food – with sushi one of it's main headliners! The dining area is cute and slick adding great vibes to the place, which is what attracts so many customers.
The cocktail bar is pleasant on the eye too, with the bar staff very charming, polite and they recommend some of the best cocktails you will ever try. To add to the already impressive positives, the prices for the food dishes are very reasonable – meaning you can try as many new dishes as you want and not spend a fortune!
If you're looking for a different venue to visit for food and drink, then the Cottonopolis is perfect for you – It's based in a groovy area too!
Vermilion & Cinnabar
The final fabulous Asian restaurant on our list is located near the Etihad stadium and it serves some of the best Asian food in the city. The luxurious Vermilion & Cinnabar serves a huge variety of food that originates from Thailand all the way to India. The food and cocktails are visually stunning – it lures you in to want to try new items of the menu.
The interior design of the restaurant is very pleasing to the-eye, it makes you feel like you have stepped into Chinese culture – making it a brilliant dining experience to be a part of. The staff are very welcoming throughout your dining experience too, which adds huge value to the place.
The prices can vary across the menu ranging from high to low, however, whatever you decide to order from the menu you will not be disappointed.
We hope you enjoyed reading our favourite Asian restaurants to visit in Manchester. If you have been to any of these places, get in touch and let us know how you enjoyed Asian Cuisine.