There are many food cultures around the city that all the tourists and locals love to eat. However, what people tend to forget is that Manchester has it's own traditional local food that all the tourists don't seem to try.
The Big Manc
The Big Manc burger has this name for a reason, due to it's colossal size! The burger itself is made up of two 6oz patties made from a delicious prime chuck steak with added bone marrow served on a brioche bun. Also served with the burger is lettuce, pickles, a rich and tasty monterey jack cheese and a Big Manc sauce.
The Ingredients truly stand out and shine when eating the burger, not only does the patty taste meatier and juicier, but the cheese is so much richer and way better than the plastic slice of cheese that they use on a McDonald's Big Mac. The burger as a whole is completely fresh and filled with incredible flavour that bursts into your mouth as soon as you bite into it.
If you think you can demolish this ginormous burger then there's an even bigger burger you could try called 'The Mega Manc' which has an incredible three 6oz patties, however, we believe The Big Manc is a much better burger to enjoy! 
Pie and Ale
Beer and pie – what more could you want! One thing Manchester is definitely associated with is beer and what goes perfectly with beer is a stunning pie to line your stomach up, so you can carry on drinking more beer!
Each pie is so unique which makes it so exciting to try, for example with the venison, boar and pheasant, these flavours go incredibly well with the house beer. If you also happen to be a vegan then there are plenty of options for you to choose from.
Not only are the prices very reasonable for all the items on sale, but the quality is fantastic. The pastry itself is an absolute delight with a wide range of pies on offer – all delicious. When you combine the right pie with the right beer you will have a match made in heaven, so be sure to choose your choices wisely. 
The weathers dropping which means perfect pie weather! Get your chops round one of our bangin' dishes! #pie #ale #northernquarter #lunch pic.twitter.com/kLhtH4rLzo

— Pie&Ale (@PieandAleMcr) August 14, 2020
Northern Soul grilled sandwich
Based in the heart of the northern quarter, the northern soul grilled sandwich is an absolute must try filled with a beautiful cheese which melts and it's a truly exquisite sight to see. Not only is the food visually attractive but the taste is outstanding too.
Available at very good prices too, the northern soul has something for everyone to try and when it approaches the christmas season they have many more treats for the locals and tourists to try which are absolutely delicious. 
The staff are all so welcoming and make you feel right at home as soon as you walk through the door. They're always making sure everything is going great with your food which is always very much appreciated.
Cheeseburger Toastie 
One of Manchester's very own unique and crazy foods, the cheeseburger toastie is something you'd never would've thought would go well with each other – but it does amazingly! There are many ways you can make one yourself as there are a load of tutorials online. However, there are cafes and other food places that sell them for a very good price too!
Home Sweet Home might mainly sell a lot more sweet items but their savoury cheeseburger toastie definitely is the crown jewel, all they do is put all your favourite burger fillings inside the toastie and watch the flavours all burst out after it's been toasted.
It's simple but yet so delicious and original, it's a must try if you're a tourist and visiting Manchester for the first time. The locals will most likely recommend it too.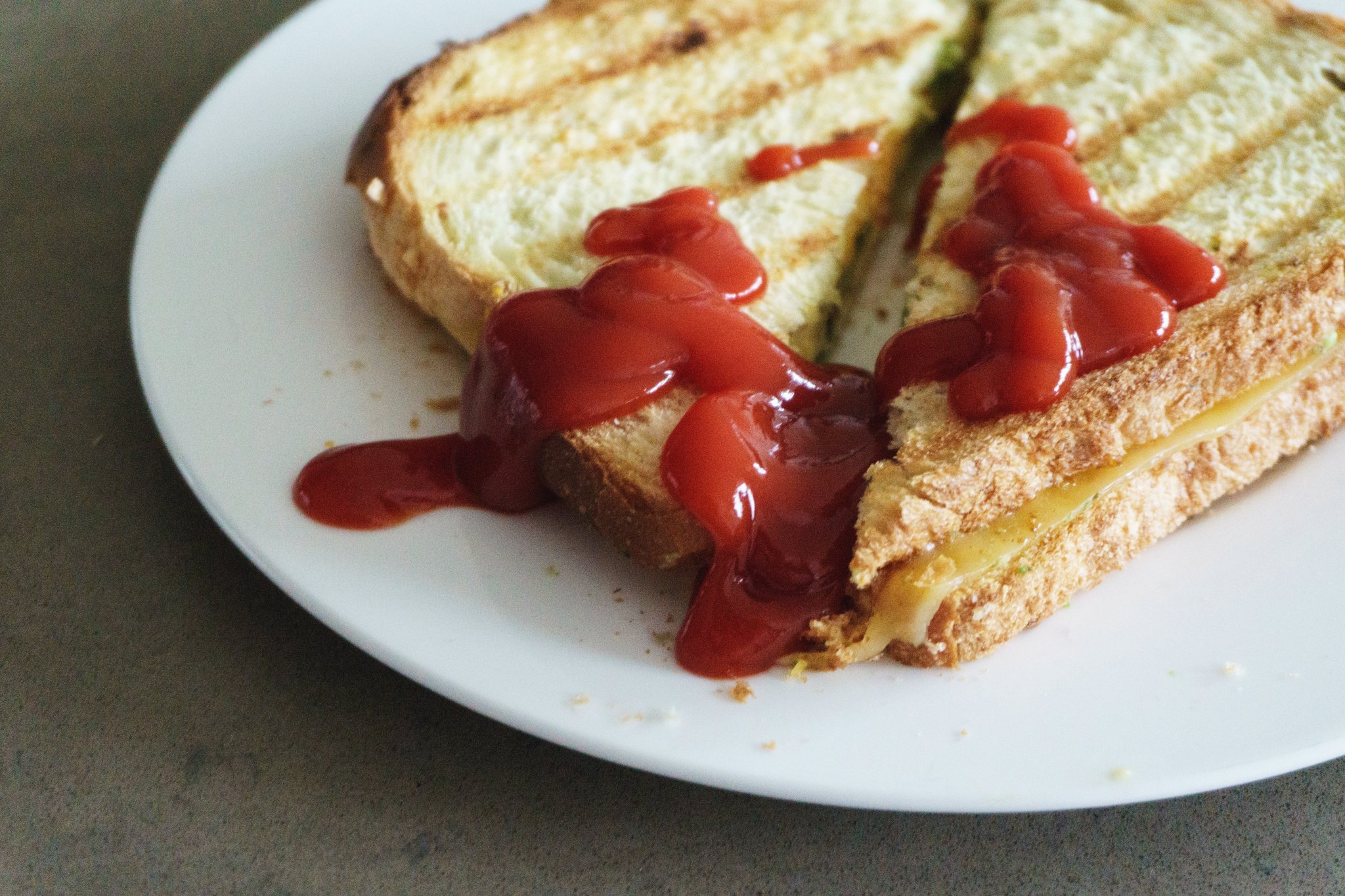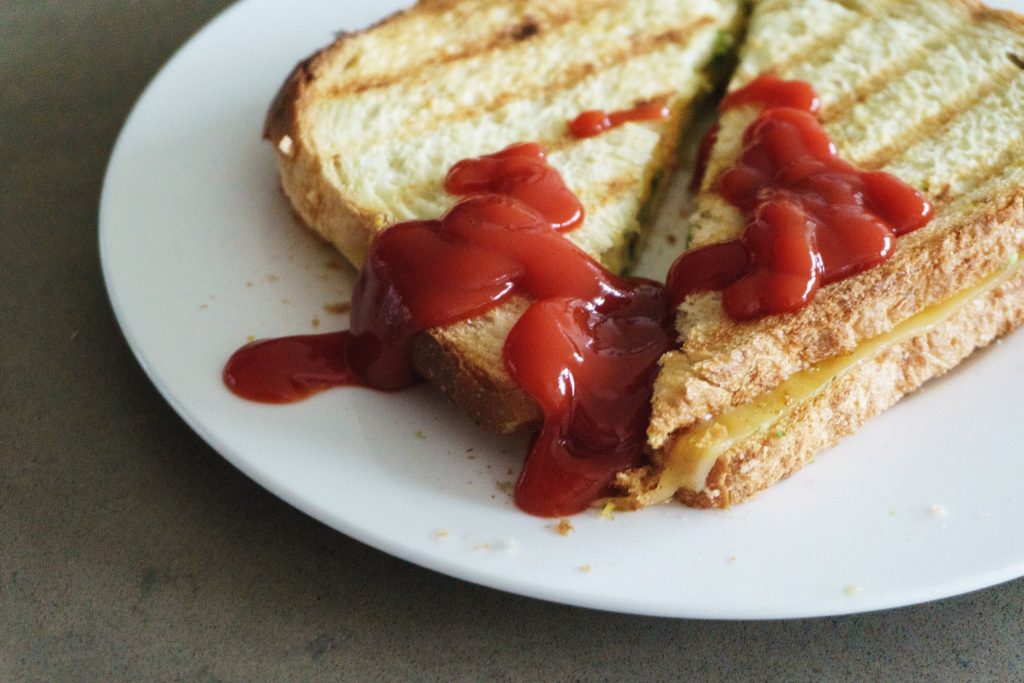 Lancashire Hot Pot
Quite possibly the most popular Manc food on this list, the Lancashire hot pot. Traditionally, it's made with lambs, onions, stock and finally  topped with some flavoursome potatoes. This fabulous dish was first introduced on the hit soap drama show, Coronation Street, by one of it's fictional characters.
The hot pot is ideal for a cold raining day, something for the whole family to enjoy and there are many tutorials online that are easy to follow so you can make the perfect hot pot!
Manchester Tart
One desert that is definitely popular with the locals is the famous Manchester tart. Many Mancuians have been brought up having these tarts for school dinners and now you can buy them in local sweet shops or cafes.
The tart is made up of a shortcrust pastry with a dollop of jam which is covered in a delicious bright yellow custard, with a sprinkle of coconut and a cherry on the top to finish. This may be the ultimate Mancunian dessert for the locals, but if you're a tourist this is something you must try. 
Visually the tarts look fantastic as the bright yellow and sweet red cherry captures your attention instantly and makes the tart irresistible to the eye.
Missing Blighty? Tuck into this Manchester tart recipe #baking https://t.co/BLrj7GBZGK pic.twitter.com/CEzBUtKTVH

— bbcgoodfoodme (@BBCGoodFoodME) August 7, 2018
We hope you enjoyed reading the best food Manchester has to offer. If we missed any of your favourites off our list, get in touch today.
---
If we've left you feeling particularly patriotic about being a Mancunian then you should take a look at our range of Manchester clothing designed right here in the city, you can view the line by clicking here.